How Jennifer helps babies
Working with premature babies and brain-injured infants and toddlers,
Jennifer Kellow, RN, developed a highly effective way to help all infants learn:
Easy Breathing
Sound Sleep
Calm Feeding
Smooth Digestion
Coordinated Movement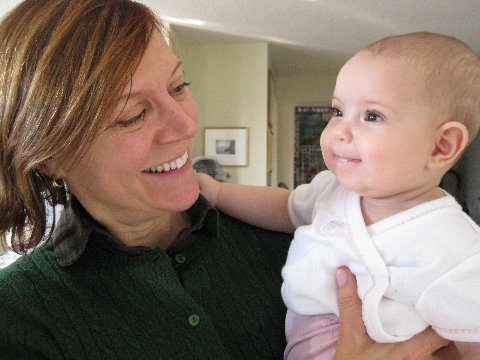 She combines her skill as an Alexander Technique teacher with her experience as a neonatal intensive care nurse and her training in preterm infant behavior to help babies integrate all the developing systems of their bodies. Jennifer works to re-establish the natural connection between parents and baby that a premature birth and subsequent hospitalization have disrupted.
For parents of full-term newborns, she smooths the baby's adaptation to life outside the womb, and helps new parents recognize the highly developed communication that their baby is naturally expressing.
How It Works
In a session, Jennifer will:
Evaluate your baby's behavior and movement
Use skilled touch to bring you and your baby to a state of calm
Help your baby learn to regulate his body systems
Teach you the cues your baby is giving to communicate his needs
Sessions last 90 minutes, in which Jennifer will gently interact with your baby on the floor, or holding your child, or with you holding your child. Improvements in comfort, behavior, and coordination can often be seen in as little as one lesson.
Who Can Benefit from The Alexander Technique for Babies and Parents?
New parents
Preterm infants
Infants having difficulty with feedings
Infants with scoliosis or musculo-skeletal problems
Brain-injured infants
Infants slow to roll over, sit up, crawl or speak
Working with infants
Jennifer has been a registered nurse for over 30 years. She spent 15 years in newborn intensive care, seven years in pediatric home care working with severely disabled infants, and two years in the pediatric ICU. She is an expert who has presented her work at conferences, both in America and abroad. You can read her bio to learn more, or read her case studies.
Babies enjoy Jennifer's gentle, directive touch. They learn quickly and retain what they learn. Parents are pleased, too. Just read what some of them have said.